Basic Information
Edit
Shai Tuck Is a Krokomummy that wander's around Outpost Island looking for a fight with anyone. Who Do Not Have The Key. He Can Be Found Wandering EVERYWHERE On Outpost Island. He Kill's Anybody Without The Key. He Is Also A VERY Powerful Krokomummy.
Spell's Known
Edit
Fire Elf
Fire Cat
Sun Bird
Krokomummy (Treasure Card) ( Always On Hand )
Dark Sprite
Ghoul
Banshee
Glaciel Shield
Fire Trap
Meteor Strike
Wyldfire
Phoenix
Helephant
Heck Hound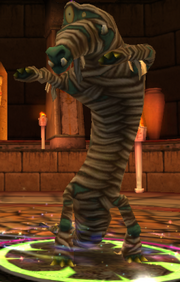 Type Of Creature
Edit
Type Of Krokomummy
Edit
Ad blocker interference detected!
Wikia is a free-to-use site that makes money from advertising. We have a modified experience for viewers using ad blockers

Wikia is not accessible if you've made further modifications. Remove the custom ad blocker rule(s) and the page will load as expected.