Mirta Brokar
Edit
Mirta Brokar is a Member Of The Mandalorian Guild and an Enemy Of Law's Brigade.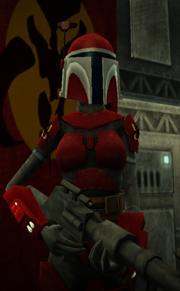 Description
Edit
"Ke barjurir gar'ade, jagyc'ade kot'la a dalyc'ade kotla'shya. Train your sons to be strong but your daughters to be stronger." -Mirta Brokar
Mirta Brokar was a female Mandalorian bounty hunter around the time of the Clone Wars. In that time she created a group of Mandalorian mercenaries known as Mandalorian Rising.
==Biography==
Mandalorian: "Brokar get out here!"
Dinuir Brokar: "Not now I'm working on my war droi-"
Mandalorian: "-your girl just ripped the ears off a Gundark. Literally!"
Mirta Brokar was born on the planet Concord Dawn, as the daughter of Dinuir Brokar, one of the last survivors of the Battle of Galidraan, and the leader of clan Brokar. Mirta was raised by her father to become a Mandalorian. She proved herself at age 8 by fighting a Gundark and taking its ears as a trophy. When Mirta was 14, she was visited by another Mandalorian outside the clan. He told her of the group death watch and there plans to make an empire and asked her to join. Her father shot a warning shot for him to get away from his daughter. Later Dinuir told Mirta of his former brother who left the Mandalorians to join the Death Watch Terrorist Group and told her if she ever saw him again to kill him.
==Fact's==
Her name used to be "Mirta Meta".
Ad blocker interference detected!
Wikia is a free-to-use site that makes money from advertising. We have a modified experience for viewers using ad blockers

Wikia is not accessible if you've made further modifications. Remove the custom ad blocker rule(s) and the page will load as expected.