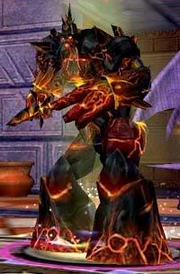 Basic Information
Edit
Lava Colossus' Are Enemy's On Isla Ramafess, They Are Very Powerful. They Also Use Magic at Times.
Lava Punch - 10,000
Body Slam - 100,000
Fire Breath - 10,000
Spell's Known
Edit
Minotaur
Vampire
Evil Snowman
Sandstorm
Judgement
Locust Swarm
Scorpion
Hex
Spirit Shield
Elemential Shield
Weakness
Balance Blade
Lava King ~ Lv 60 - Isla Ramafess, Lava Land --- Permanent Boss
Lava Colossus' Are From Wizard101 So They Know Some Spell's.
Lava Colossus' Are Extremely Powerful And Not To Be Taken Lightly.
Ad blocker interference detected!
Wikia is a free-to-use site that makes money from advertising. We have a modified experience for viewers using ad blockers

Wikia is not accessible if you've made further modifications. Remove the custom ad blocker rule(s) and the page will load as expected.