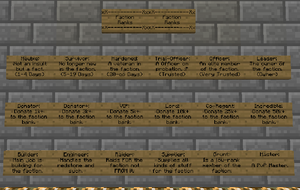 Kuragari is a semi-independent Minecraft faction owned by wipefeetnmat. Kuragari is loosely allied with the more anti-FireHawk factions.
As of March 4, 2014 Brutalcraft shut down, with it Kuragari.
Allies and Enemies
Edit
Allies:
WatchDogs (Loose Alliance
Rangers (Closest Allies)
BloodClan (Loose Alliance)
Truces:
ACT (Shakey Truce)
Enemies:
FireHawk (Long-time Enemy)
wipefeetnmat (Owner)
iFortuneCookie (Officer, Founder)

ThomasdoesMCFTW (Officer)

xNekoMimix (Founder)
epk135 (Recruit)
MarckSquareman (Recruit)

waterbottlez (ex-Member)

cjm45555 (Recruit)

BBBRoyal (ex-Member)
WetFreshDoom (ex-Member)
DesiCreeper (ex-Member)
EddieGudino1 (ex-Member)
Ad blocker interference detected!
Wikia is a free-to-use site that makes money from advertising. We have a modified experience for viewers using ad blockers

Wikia is not accessible if you've made further modifications. Remove the custom ad blocker rule(s) and the page will load as expected.