"Before you make a decision think how others see the choice before leaping into action" 
Johnny Goldtimbers or perhaps better known as Giovanni Octavius El Elegido Del Mar Goldtimbers, is the current Lord Marshal of the East India Trading Company, As well as being the leader of the Co. Black Guard, Black Council and EITCSI.   
Johnny Goldtimbers



Full Name:

Johnathan Goldtimbers

Status:

Alive

Gender:

Male

Eye Color:

???

Hair Color:

Grey

Born:

Januray 4th, 1657

Died:

still alive

Affiliation:

Predesessor:

Succesor:

None.
Other Information

Family: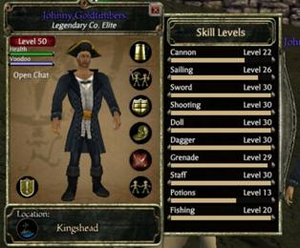 External and Internal Links
Edit
Ad blocker interference detected!
Wikia is a free-to-use site that makes money from advertising. We have a modified experience for viewers using ad blockers

Wikia is not accessible if you've made further modifications. Remove the custom ad blocker rule(s) and the page will load as expected.