Devil's Anvil is located between Port Royal and Tortuga. It is basically in the middle of all of the major islands. This island is classified as a wild island, but it is safe even for beginning pirates. It's location allows for easy travel to it from anywhere. 
One of the main purposes of Devil's Anvil is to allow beginning pirates to get their pistol. There are limited enemy characters on this island and only one internal area. Inside this area is Captain Barbossa, a NPC (non-player character). He is accompanied by his pet monkey (Jack) who is labelled as a level 1 enemy. Your can use this monkey as target practice for your pistol after you get it from Barbossa.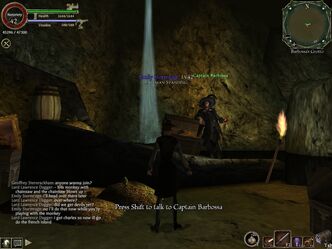 Enemies on Devil's Anvil
Edit
The enemies on Devil's Anvil are mainly scorpions and crabs. These enemies are low level, anywhere from level 1 to level 6. Jack the monkey is considered an enemy, however no matter how many times you shoot, stab, or blow him up he refuses to die or even attack you back. 
Other things to know
Edit
There are several glitches that can be found on this
island. This includes the Devil's Anvil dog glitch. Besides glitches, there is also an event the used to occur on this island on Mondays or Tuesdays. This event was called
Barbossa's Grotto Monada Nightclub
. It was a coming together of numerous people including enemies and allies, founders and beginners.
Ad blocker interference detected!
Wikia is a free-to-use site that makes money from advertising. We have a modified experience for viewers using ad blockers

Wikia is not accessible if you've made further modifications. Remove the custom ad blocker rule(s) and the page will load as expected.