Climbing Devils Anvil
Edit
Climbing Devils Anvil was a secret East India Trading Company Glitch on Devil's Anvil. This glitch was often used to test Co. Black Guard climbing and parkour skills.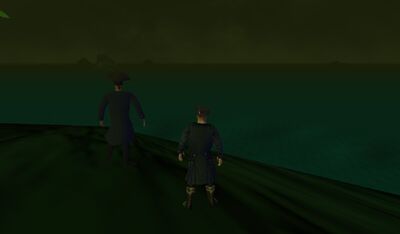 There are two ways to access the glitch, the first way and well.. the hard way, by repeatedly using the Swift Foot Glitch and Jumping your way up. 
Or the easy way:
Walk into barbossa's grotto.
Minimize your compass and open your map.
Start walking out and right before the loading screen teleport to devils anvil.
Now you should be in a secret area on the inside, look for a big rock.
Now use your parkour and jump onto the rock.
Now jump onto the tree and then the cliff.
Now you climb to the top (getting to the top takes about 20-30 minutes).
Ad blocker interference detected!
Wikia is a free-to-use site that makes money from advertising. We have a modified experience for viewers using ad blockers

Wikia is not accessible if you've made further modifications. Remove the custom ad blocker rule(s) and the page will load as expected.