Captain Ethan
Edit
Captain Ethan was a brigade member and once third in command of Law's Brigade Pirates of the Caribbean Online Version during The Great War of the Brigade and the EITC. It was well known that ethan was a close friend of Walker. One day Ethan decided to leave the brigade, he was never seen or heard from after this.
Captain Ethan

Captain Ethan on Isla Cangrejos.

Full Name:

Captain Ethan

Gender:

Male

Status:

Unknown

Hair Color:

Brown

Eye Color:

???

Rank1:

Officer

Rank2:

???

Affiliation:

Law's Brigade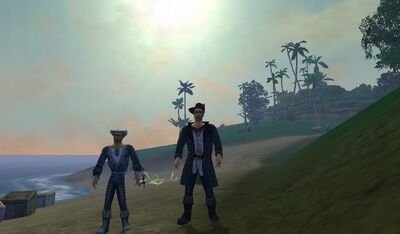 He was once suspected of being an East India Trading Company Spy.
It is possible that Ethan had just decided to quit Pirates online.
Ethan often liked to dress up like fellow brigadier Marck Swordstalker, though they rarely encountered eachother.
Compared to all that went on, this page is considered a major stub.