Bob The Dragon:
Edit
Bob is a dragon that Wizard got before leaving Wizard101. He just found him outside his door of his house in wizard101. So, he has been with him ever sense then.You can see him in Wizard's new house flying, around Tortuga and padres, following Wizard, playing with Wizard's other pets, around the Caribbean or sleeping.
Information:
Edit
Gender: Male
Type: Tirger Dragon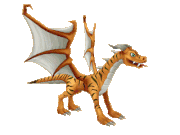 Color: Orange
Age: 5
Ad blocker interference detected!
Wikia is a free-to-use site that makes money from advertising. We have a modified experience for viewers using ad blockers

Wikia is not accessible if you've made further modifications. Remove the custom ad blocker rule(s) and the page will load as expected.