Benjamin Stormphoenix
Edit
Benjamin Stormpheonix Also known as Blake Stuart (Identified by Johnny Goldtimbers himself) is an enemy of law's brigade as well as a member of the Co. Black Guard.
Benjamin Stormphoenix



Full Name:

Benjamin Stormpheonix

Real Name:

Blake Stuart

Status:

Alive

Gender:

Male

Eye Color:

Brown

Hair Color:

Black

Born:

???

Died:

Still Alive.

Affiliation:
2011 Attack
Edit
Blake Stuart (Benjamin Stormpheonix) was identified by Current Lord Marshall of the EITC Johnny Goldtimbers when questioned about the 2011 wiki attacks, Blake Stuart posed as "Johnny Goldtimbers" in several comments seen on pages, He is one of the 11 known vandals during the 2011 Wiki Attack.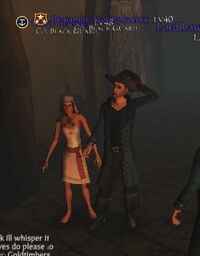 Ad blocker interference detected!
Wikia is a free-to-use site that makes money from advertising. We have a modified experience for viewers using ad blockers

Wikia is not accessible if you've made further modifications. Remove the custom ad blocker rule(s) and the page will load as expected.