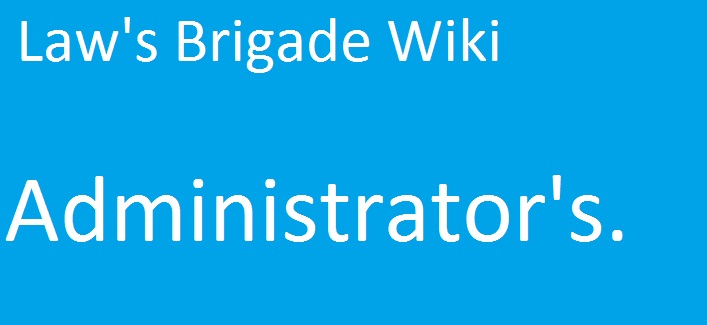 Administrators, also called sysops, are active and regular users who have access to technical features that help with maintenance. Administrators are expected to respect and be familiar with policy as they are known and trusted members of the community.
Meet the Admin's
The Following are law's brigade wiki Administrators.
Founder of this wiki and Law's Brigade, Lawrence has been editing on wikia since 2011.
Marck is the longest-standing member of Law's Brigade still in Law's Brigade, besides Lawrence. 
Also is a longtime brigadier and lbw user, Walker is one of our main coders for the wiki. He also owns three servers in Minecraft and is a huge Call of Duty fan.
One of the other coders for wiki, The Darkwolf is an expert when it comes to Roleplay.
Spongebob Wiki and Countypedia Founder/Admin, Calzone is known for his editing skills and love for American cartoons.
A Huge ally of law's brigade, In her free time when she is not watching anime or editing on the opera wiki she will be stalking LBW activity.
Another Spongebob Wiki admin and well known Youtuber, When SpongeyTube is not on here then you will most likely find him working on another one of his famous youtube videos or editing on the Spongebob Wiki.
.Vampony - The brony admin, she will answer all My little pony questions..and horse related sruff (She lives on a farm.)
Scarlot - Active
The newest addition to the Administrator's, Just like Emily, Scarlot is a huge anime fan and also enjoys playing the guitar in his free time.
Former Admin's
The Following are LBW's Former Administrator's:
How Do I Become An Administrator?
To Become an Administrator:
Lord Law and the other admins have to trust you and you abilities to maintain the wiki.
You Have to Have at Least 200 edits.
You must be on the wiki for at least 3 months
If you are on the chat mod team you have a good chance of becoming an admin.
Mary must make sure you have swag
Note: These do not apply with all users.
What Can Admin's Do?
Admins can...
Protect and unprotect pages.
Edit the wiki navigation.
Ban and unban users.
Edit the Main Page.
Promote users to chat moderators in chat.
Get colored comments.
Delete and or edit others (including their own) comments.
Promote Pages.
Leave community Messages.
Add wiki chat emoticons.
Add coding to the wiki (includes userboxes, banners and other stuff).
And so much more!